---
Chapter XXXIV. The Glorification; Its Sixth Stage-The Third Period of Adult Life.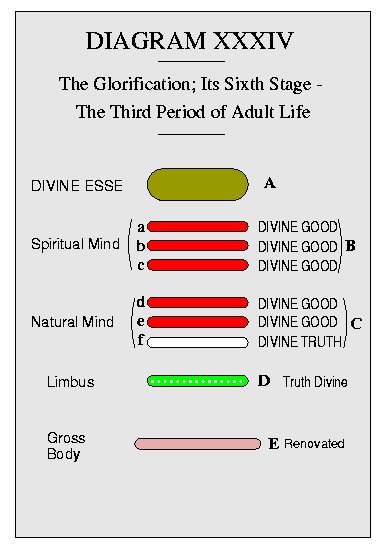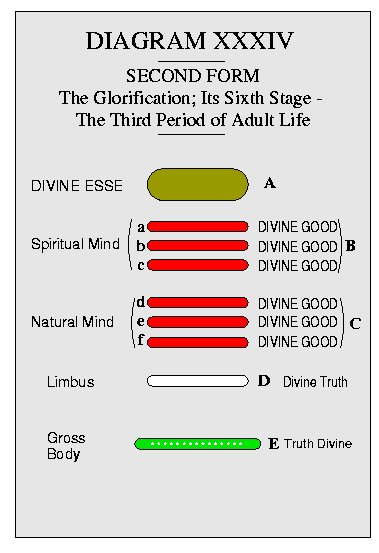 WE have here a diagram for each of the steps of Glorification combined in this period. During this period the middle degree of the natural mind e was made Divine Good and the lowest degree f was first made Divine Truth then Divine Good as at f (2nd Form). The limbus was made Divine Truth, as in Diagram XXXIV (2nd Form). This descent of the Glorification was accomplished by an elevation of the seat of perception into the highest degree of His spiritual mind. Thus the lowest degree of His natural mind (including the spiritual body and the limbus) is now Divine and united through the intervening degrees with the highest degree of His spiritual mind, and of course through this with His Inmost A.
The Divine Life in its own Divine substance and form descended in Him below the spiritual body, even into the natural body D and E, the very ultimate of the human. This descent has no parallel in the regeneration of man. This descent however is now only commenced, reaching merely into the limbus to be completed during the Passion of the Cross (see next diagram).
The gross body E at the termination of this stage, was composed of the very highest order of truth divine possible to this plane. This truth divine was none other than the very purest natural substance most perfectly organized.
The Glorification is now well nigh complete. This period closes just before the "Passion of the Cross," the "Last Combat by which the LORD fully conquered the hells and fully glorified His Human." (L. 12.)
The crucifixion took place while the limbus and gross body were in the state represented in this diagram (2nd Form), as more fully shown in the following Chapter. Crucifixion could go no deeper than the gross body. The limbus which was next within could suffer no physical violence. Even with man it survives death without harm.

---