Print version (all sections in one long page)
AN APPEAL
IN BEHALF OF THE
VIEWS OF THE ETERNAL WORLD AND STATE,
AND THE
DOCTRINES OF FAITH AND LIFE
HELD BY THE BODY OF CHRISTIANS WHO BELIEVE THAT
A NEW CHURCH
IS SIGNIFIED (IN THE REVELATION, CHAP. XXI.) BY
THE NEW JERUSALEM:
EMBRACING
ANSWERS TO ALL PRINCIPAL OBJECTIONS.
by the rev. SAMUEL NOBLE
Thirteenth Edition
1903
---
Contents:
II. The Second Coming Of The Lord
V. A Human Instrument Necessary, And Therefore Raised Up
VI. Heaven And Hell; And The Appearances In Them, And In The Intermediate Region, Or World Of Spirits.
VII. The Trinity, As Centered In The Person Of The Lord Jesus Christ.
VIII. The Atonement, Sacrifice, And Mediation Of Jesus Christ:
Buy book: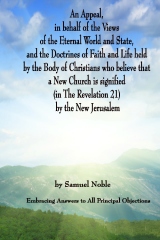 See also: